Victoria Azarenka - the face of InstaForex - the world's top-ranked tennis player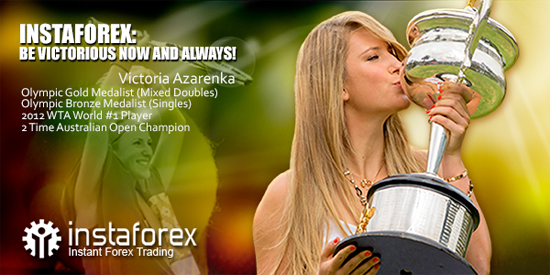 InstaForex cooperates with 2012 WTA world #1 and two-time Grand Slam Champion, Victoria Azarenka. Partnership with Victoria Azarenka, the leader and idol of modern elite tennis, began in April 2013.
Last year was more than triumphant for Victoria Azarenka: she came first at Australian Open, earned gold Olympic medal, and took the first position in WTA rankings. The current year was marked by another victory at Grand Slam in Australia. It cannot go unnoticed that Victoria's determination, will to win, urge to continue working no matter what happens are also the traits of InstaForex traders who are striving for success and higher achievements.
In the video presented below Victoria Azarenka tells about the full background of her professional development on the way to a niche in the temple of fame . The page will be constantly updated. Thus, Victoria will share her formula for success with InstaForex customers and give some tips on how to develop a winning attitude, deal with losses, and do not give up in difficult situations.
Root for Victoria Azarenka, trade with InstaForex!
World No.1 women's tennis player
Former World No.1 junior tennis player
Winner of 22 WTA tournaments
Former World No. 7 women's tennis player in doubles
2011 WTA Tour Championship finalist
2012 London Olympics champion
Five-time Grand Slam finalist
Four-time Grand Slam champion
Former World No.1 women's tennis player in singles (2012)