U.S. Città di Palermo - new InstaForex partner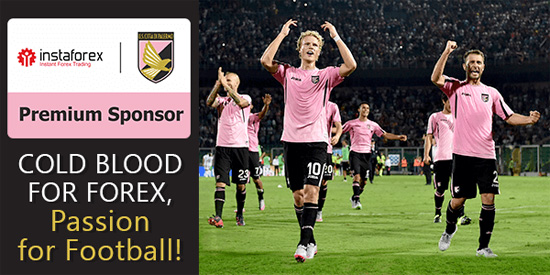 Italian football club Palermo has become the company`s new partner. The football club has more than 100 years of history since it was founded in the year 1900.
In autumn 2015, InstaForex signed an agreement with the football team from sunny Sicily in the height of the 2015–16 Serie A league. At the moment, Palermo is fighting for the high places in the championship. Such players as Alberto Gilardino, a world champion of 2006 for Italy, and Franco Vazquez, one of the best forwards of the Italian national team at the moment, form one of the strongest attacking lines at the championship in Italy.
Palermo achievements
The fifth place in the 2006-07 and 2009-10 seasons is among the main achievements of the team. In 2010-2011, reaching semi-finals in the Coppa Italia, Palermo defeated Milan. Due to this, Palermo qualified for the final for the first time in 32 years but then lost to another club from Milano - FC Inter. In 2006, Luca Toni was Serie A`s top scorer and together with Gilardino became the world`s champion with the Italian national team
Now, every InstaForex client has an opportunity to win VIP tickets to one of unforgettable matches of Serie A with the participation of Palermo FC. Don`t sit on the bench - jump at your chance!
Trade with InstaForex and root for Palermo FC at Serie A!