Daria Kasatkina – new InstaForex brand ambassador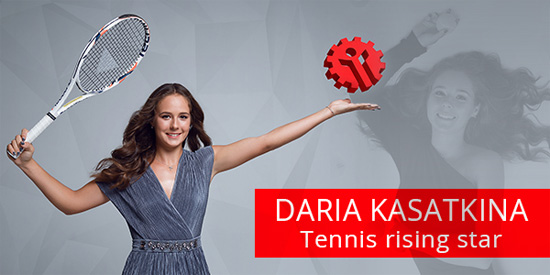 We are proud to present the new brand ambassador of our company – rising tennis star Daria Kasatkina. The achievements of the 20-year-old Russian athlete are really impressive. She is the winner of two WTA tournaments, seven ITF singles tournaments, the Grand Slam singles junior tournament (French Open 2014), the silver medalist of the 2014 Summer Youth Olympic Games in China, and the runner-up of the Kremlin Cup-2017.
The young, talented, and ambitious player vigorously entered the world of tennis and deservedly reached the tops of the world ratings. Since the beginning of her career, Daria has not only demonstrated resilience and strong-willed character but also a real passion to sports, completely devoting herself to her favorite sport. According to her coach, the main distinctive feature of Daria is her attitude to defeats. As Daria said "every defeat is a motivation for further victories and a powerful stimulus to move forward!"
On this account, our views are the same. Constant movement forward, scrupulous analysis of mistakes and desire to reach new highs – that's what InstaForex and Daria Kasatkina have in common. This philosophy of success allows us to use losses and defeats for our own benefit. We believe that hard work and an overwhelming desire to become the best in the industry is a guarantee of future victories.
"I am sure that any effort aimed at achieving the goal can not go to waste. Every day we put our efforts into something that is really important to us and do our best to achieve the desired result. It is important to keep on going, to set new goals, and strive towards new horizons," Daria said. "In this respect, InstaForex and I set the priorities on the same way".
During the photo shoot organized exclusively for InstaForex, Daria showed that apart from the exceptional talent in sports, she has a potential to be a great model. Here we prepared several photos of beautiful outstanding tennis player Daria Kasatkina.